Professional Attic Insulation & Decontamination Services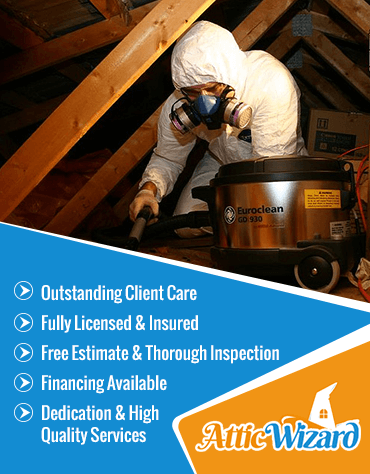 Are you hearing bumps and scratches in your attic every night? Instead of calling the Ghostbusters, contact us here first at Attic Wizard. Here's the good news – you're not hearing ghosts. Here's the bad news – what you have is worse since your attic became a breeding ground of rats and other pests.
Pests in your Attic
What are you putting in your attic? There's a good chance that just like most homeowners, you're putting things that you don't need in your attic. In short, you're putting junk. Since it's out of sight anyway, you don't really maintain it. You just go there to put boxes of junk in without really cleaning or organizing things.
Well, guess what? By doing this, you're making a very attractive home for different pests. Here are some of the pests that may have been using your attic as their home:
Why should You Worry?
Being pests, they carry a lot of viruses and bacteria. Can you imagine living in a home with viruses and bacteria lurking? If you've been noticing animal droppings in your attic, well, you're in huge trouble because they can make your family sick. Can you imagine taking out a box of old toys from your attic because of a new baby in the family, not realizing that rats have turned that box into a toilet?
In addition, these pests will start exploring your home for food. This explains why your cereal boxes have nibbles on them.
What Should You Do?
There's only one thing that you need to do. You need to contact us here at Attic Wizard. That's it. For our part, we'll be doing two things.
First, we'll be cleaning your attic. Your attic is now filled with dust and we'll make sure that your attic will be dust free. You probably know that dust in your attic can go into the air that you breathe and that's not healthy so allow us to do something about it.
Most importantly, we'll be cleaning your attic to get rid of animal droppings. This way, you don't have to worry about falling sick with salmonella or other diseases. You can finally sleep soundly at night knowing that you're not sleeping a few feet away from rat droppings.
The second thing that we're going to do is to decontaminate your attic. We'll clean your attic to take care of things that you can see, and we'll decontaminate your attic to take care of things that you can't see. There's no point in cleaning an attic without decontaminating it because decontaminates present bigger problems to homeowners.
With this service of ours, you can even use the attic as a room. A lot of our customers contact us for our attic cleaning and decontamination services because they want to turn their attic into a bedroom or study. However, this doesn't mean that you don't require our services if you're not planning to use your attic as a room. If you want to ensure a safe and healthy home by having a clean and decontaminated attic, contact us here at Attic Wizard!