Attic Insulation Removal Services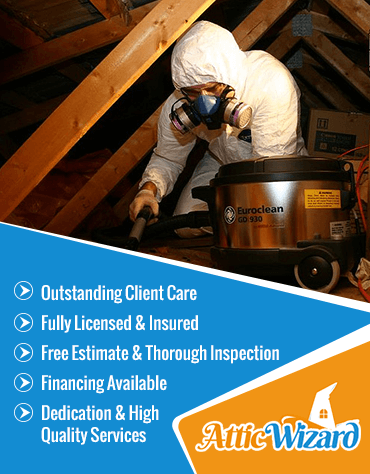 If your insulation is old and dirty, it might be time to change it because not replacing it might lead to higher electricity bills and also significant health risks. In addition, certain animals and rodents may lead to dirty attic insulation, which in turn leads to potential diseases that may be transmitted to you and your family. If you believe that you may be in danger of either of these conditions, it is best to call Attic Wizard immediately and get your attic checked out. This will reduce your energy bills, improve the overall safety in your home, and remove harmful and potentially deadly disease risks. We offer professional services that are guaranteed to make your home a safer place for your loved ones.
Qualified Workers and State of Art Equipment
The process of removing attic insulation is rather complicated. Basically, we use a very powerful vacuum which removes all of the harmful material that is in your attic. All of the dust, debris, and harmful particles will be eliminated safely and in a timely manner. We will place all of the hazardous materials in a particular filtered bag and place it outside of your home. This is the safest way to remove the harmful particles from your home, and you and your family will not have to deal with any of the cleaning.
Your Health Is In Safe Hands
Homeowners can remove the dust and debris themselves, however, this is not recommended. It is best to hire professionals who have dealt with similar problems for years in order to avoid the many risks that come with the job. If you do not have adequate protection and are not careful while cleaning, serious health concerns can arise. Furthermore, there are many harmful materials that are not easily distinguished with the naked eye such as fiberglass and asbestos. It is well known that these substances can lead to lung diseases, cancer, and in some cases even death. Besides, there are many areas in your attic that are not within reach, but it is essential that the whole attic is cleaned at once in order to completely eliminate health risks. Even though you might want to try and remove the debris yourself, it is much better to call a professional because of the potential incidents that may occur.
Attic Wizard is here for you!
Our company has many years of experience, and we are truly the best people for the job. We will take care of everything while you enjoy the comfort of your home. You will no longer need to worry about what your family may breathe in while exploring the attic. These risks are even higher for small kids and elderly people, so if you have kids it is essential that you call us immediately. We will ensure that everything is removed in the safest manner, and we guarantee that your living space will be in the best shape that it possibly can be. Feel free to contact us and receive a free estimate for our services at (877) 373-5212.