The Different Types of Home Attic Insulation & Its Benefits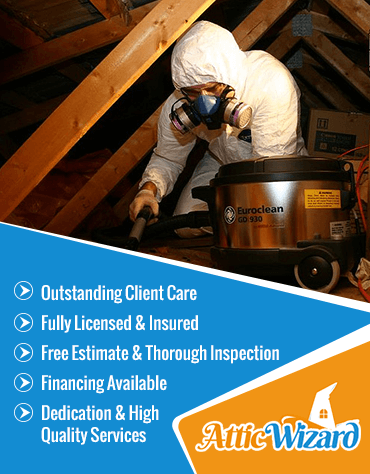 Home insulation is the best way to keep cold and warm air from escaping your home. When the upper area of a home becomes too cold during the winter or too hot during summer and you begin to notice that your electricity bill is greatly increasing, then you need to contact professional cleaning specialists to get your home insulation inspected. Attic Wizard will do the necessary inspection and evaluation of your home insulation and if there is a need for a Insulation replacement, we will give you advice on the best type of home insulation.
Different Types of Attic Home Insulation
When it comes to insulating your home, there are several types of insulation available for you to choose from. Among these is the fibreglass, rock well as well as the cellulose.
Fiberglas insulation – this is said to be the most common type of all home insulation. The great thing about this is that it is relatively inexpensive and easier to install especially if you choose the correct type. It is non flammable as well and it can resist any form of water damage.
Rock wool insulation – this is similar to fibreglass but this type is more expensive and is a bit difficult to find. This is similar to dryer lint and may be a bit dusty. It is available in loose fill variety which can be blown in or be poured out of the bags. The greatest benefit for rock wool insulation is that it can cake when it gets wet and will naturally settle as time goes by.
Cellulose insulation – this is an organic material that is made out of a recycled paper. This must be chemically treated in order to resist moisture and pests. Moisture absorption can make this insulation to become heavier and it might lose its insulation properties as time goes by.
Signs that your Attic Insulation Needs Replacement
One way to determine if your home insulation needs replacement is when you notice the development of large icicles or ice dams hanging down off the overhang on your home. In addition, if you notice that your home is heating up faster during summer time, then that is a good sign that your insulation is not keeping the heat out of your home and that it may have been compromised.
Experts claim that having proper insulation is one of the best ways to lessen your energy consumption and as a result, your electricity bills will also be lessened. So if you feel like your home insulation is not in excellent condition, then you should call Attic Wizard so your problem will be addressed.
Tax Credits
The Residential Energy Property Credit program is a program from the government that offers tax credits to homeowners who have gone through energy efficient home improvements at the end of the year. For the home insulation project, homeowners could earn as much as 10% tax credit, based on the cost of the materials, to a maximum of $500. But then there are only certain products that may qualify for this so before you get any insulation done, check with your contractor to see if they are using qualified products.