Crawl Space Cleaning and Decontamination Services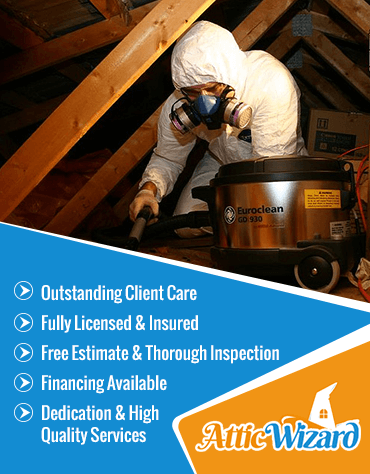 When raccoons, mice, rats and bats have nested in your crawl space and attic for a long time, they will end up contaminating your home insulation with feces, urine, and other contaminants. If you will not take proper measures as early as now, these contaminants could spread all over your home and you and your loved ones could be in danger. It is for this very reason why crawl space cleaning and decontamination are absolutely important.
Dangers of Leaving Animal Wastes
If a colony of bats, family of mice or rats, will build a house in your home insulation, their droppings would accumulate and will create a health risk for all of you living in your house. So the moment you notice some animal feces or urine, or perhaps animal droppings on your attic and crawl space, exclusion plans must be made immediately. Cleaning and decontamination should be done in order to kill all the harmful bacteria that may have lingered on the area.
You might think that you can pretty much clean and decontaminate your attic and crawl space on your own, but the process is actually not that easy. You should leave it up to the experts. The Attic Wizard can handle this for you. We are equipped with the right tools and devices, as well as repellents that are effective in eliminating the presence of these harmful bacteria in your home insulation.
Attic Clean up Process is the First Step
When you call to have your attic and crawlspace cleaned and decontaminated, the first step is to actually clean the area well and remove the pests or animals that have lingered there. Ultrasonic devices as well as repellants might be used although in some cases, physically trapping and removing the animals are also done.
After that, the cleaning specialists will seal each and every entry and exit points so these pests can no longer go back. This step is crucial to eliminating the harmful substances that have lingered on the crawl space in your home and if you are not skilled on these tasks, you could end up harming yourself.
Animal Waste Removal and Decontamination
The next step is to remove all of the animal waste with the use of a vacuum cleaner. The vacuum comes with a high efficiency filter that bags the contaminated material. Sometimes, a truck mounted vacuum system will be used for big buildings, those that have large accumulations of animal droppings or if a big area in the crawl space has been contaminated.
These high powered vacuums are capable of removing a large amount of contaminated material within a short period only. Proper disposal of the contaminated material is always observed and decontamination will then follow. This would require the use of some disinfectants to kill the bacteria and other harmful organisms that came from the animal wastes.
As you can see, crawl space cleaning and decontamination are absolutely important. So do not put your life and the life of your family in danger. Call the cleaning specialists now.